Live Your Passion | Become a Yoga Teacher
Neighborhood Yoga's Teacher Training School 200 hour Program prepares you to teach intelligently sequenced, safe, and well-rounded classes to a variety of students.
During the 15 week interactive program you will have plenty of hands-on opportunity to put your new skills to use and find your voice as a teacher.
Not everyone decides to take Yoga Teacher Training to become a Teacher.  Self-improvement & quality of life are also reasons why students join Yoga Teacher Training. The tools & experiences you gain are universal & may be applied to all aspects of your life.
We will be offering Yoga Teacher Training twice in 2018.
January 6th – April 15th – Saturday & Sunday  9am – 3pm – First Graduating class
TBA – Second Graduating Class
 WHAT YOU CAN EXPECT TO LEARN FROM OUR PROGRAM 
Neighborhood Yoga Teacher Training program offers a full-spectrum curriculum.
Upon graduation you will be able to:
Teach basic principles of alignment with confidence and clarity

Analyze a pose and break it into focused points in order to introduce it to students in increments

Design intelligently sequenced classes

Teach breath awareness to beginners

Teach simple restorative poses

Lead guided relaxations & meditations

Understand general principles of anatomy as they apply to teaching yoga

"Read" a student's body and make proper adjustments

Be familiar with general principles of yoga philosophy

Understand classroom ethics and professionalism

Understand pertinent aspects of the business of yoga – insurance needs for teachers, yoga alliance requirements and marketing basics
Training certificate meets the requirements to teach yoga according to the Yoga Alliance's standards.
When you have completed the 200-hour certification program you will receive a Certificate of Completion, Certified Yoga Teacher (CYT). This training follows the standards and criteria established by the Yoga Alliance.  Following graduation, you may register with the Yoga Alliance to become a Registered Yoga Teacher (RYT).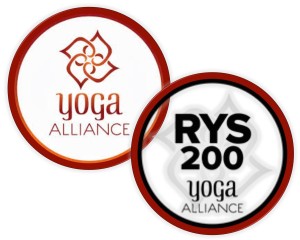 Required Reading 
Not included in tuition
Hatha Yoga Pradipika
by Swami Muktibodhananda
The Language of Yoga
by Nicolai Bachman
The Key Muscles of Yoga
by Ray Long
The Yoga Sutras of Patanjail
translation and commentary by Sri Swami Satchidananda
Teaching Yoga, Yoga Sequencing & Yoga Adjustments
all 3 books by Mark Stephens
Tuition 
The cost for Neighborhood Yoga's 200 HR Teacher Training is $2000.00
Purchase Online or call 801-662-8610